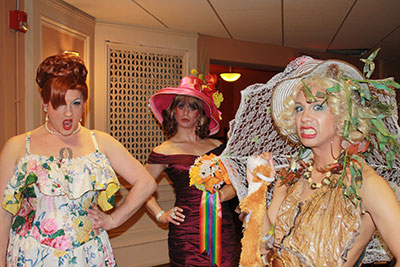 GayBINGO! is the fabulous, irreverent, campy, wildly popular monthly event that has been entertaining Philadelphia audiences for 18 years!
Celebrating a different theme each month, hundreds of people pack the hall in Center City's Gershman Y for a night of good old-fashioned Bingo… with a decidedly different twist! GayBINGO! is hosted by the infamous Bingo Verifying Divas (BVDs!) – a wild bunch of drag queens who entertain the crowd with their wacky humor and always outrageous costumes.
GayBINGO! promises to be an evening of unbridled fun, complete with ridiculous musical numbers, hilarious drag queen antics, chances to win fabulous prizes, and much, much more!
GayBINGO! 2013/2014 Schedule/Themes
9/7/2013

Show Us Your Shoes GayBINGO!
Welcome Home Miss America!


SUNDAY, OCTOBER 20 AIDS WALK/RUN PHILLY 2013


11/23/2013

Born This Way GayBINGO!
"Don't be a drag, just be a Queen!" Lady Gaga


12/14/2013

Sugar Plum Fairies GayBINGO!
Bring a new, unwrapped toy for a child infected with or affected by HIV!


1/11/2014

Let's Make A Deal GayBINGO!
Wear your costume and bring wacky items to play along!


2/8/2014

Rom Com GayBINGO!
Misunderstandings, missed connections and happy endings!


3/8/2014

Carnival GayBINGO!
It's a Rio Gay-Janeiro celebration!


4/26/2014

Spring Break GayBINGO!
BVD's Gone Wild!


5/17/2014

Zombie Wedding GayBINGO!
'til death do us part?


6/14/2014

I Want To Be Barbie GayBINGO!
That bitch has everything!

Click Here for sponsorship opportunities
Event Information:
Call 215-731-9255 now for tickets
Don't be disappointed!
Tickets: $25 for Reserved Floor
$20 for Balcony
Location: Gershman Y (401 S. Broad)
Intersection of Broad & Pine
Center City, Philadelphia.
Time: Doors open at 6PM and games begin at 7PM.
GayBINGO! has a running time of approximately 2 hours.