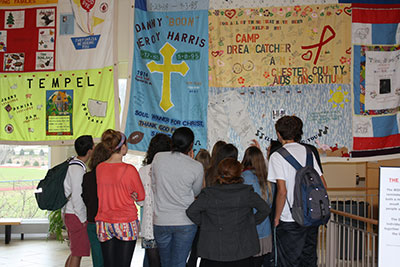 World AIDS Day is held on December 1 each year and is an opportunity for people worldwide to unite in the fight against HIV, show their support for people living with HIV and to commemorate those we've lost. World AIDS Day was the first ever global health day and the first one was held in 1988.
Last year, AIDS Fund participated in nine World AIDS Day events throughout the Philadelphia region. Using our traveling timeline, '1981-Until It's Over…' and The AIDS Memorial Quilt, we were able to spread HIV/AIDS awareness to 1,500 community members, educators, students and more.
If you would like AIDS Fund to come to your school, community center or workplace for a World AIDS Day event, please send an email to info@aidsfundphilly.org. In the past, AIDS Fund has participated in World AIDS Day events at Temple University, Widener University, Rutgers University-Camden, Friends Central School, City Hall and others.
*Unfortunately, not all requests for the '1981-Until It's Over…' exhibit and The Quilt are able to be accommodated due to space requirements, time constraints, etc.